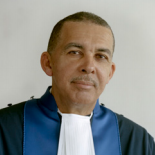 The 12th Assembly of States Parties to the International Criminal Court, scheduled to take place from 20-28 November 2013, will hold an election for one of the eighteen regular judges of the International Criminal Court. This by-election has become necessary after Anthony Carmona, who joined the bench in March 2012, announced his resignation effective 18 March 2013. Mr. Carmona had been elected President of his native Trinidad and Tobago and swore his oath of office on that day.
Normally, a third of the bench, i.e. six judges, are elected every three years to serve a nine-year term to ensure a rotating mechanism. Mr. Carmona's resignation triggered the invitation from the Secretariat of the Assembly of States Parties to nominate possible replacements to complete Mr. Carmona's term, which would have ended in 2021. The invitation was issued on 26 April 2013 and stated that the nominations would be accepted from 28 August through 8 October 2013 with a possible extension.
The Court's current composition 
The eighteen judges of the Court must represent a balance in terms of their judicial experience, their native countries and their gender. While at least six judges must be of each gender, at least nine judges must have experience in criminal trial proceedings and at least five must have established experience in international law. In addition, each of five geographical regions of the United Nations (Africa, Asia-Pacific, Eastern Europe, Latin America/Caribbean and Western Europe/Others) must have some representation depending on the number of states parties from these regions. Today, in effect, each region is entitled to three judges.
Before each election, be it a regular election of six judges or a by-election as in this case, the Secretariat compares the numbers of remaining judges with the judicial experience, regional and gender requirements. If the number of remaining judges already fulfills a given requirement that requirement will not constitute a restraint on the voting mechanism. If the number of judges is lower than the requirement in any sector, state parties will be required to vote for at least one candidate fulfilling that requirement.
Voting Requirements in the By-election
Let's take a look at the 17 judges that will remain on the bench after this year's by-election. (We are not including here those judges whose term has already come to an end while they are still serving on an ad-hoc basis to complete the proceedings before them).
Regarding criminal trial proceedings experience, there are ten judges having this so-called "List A" qualification. On the other hand, there are seven judges who have experience in international law ("List B" qualification). As the minimal number of judges holding each of these qualifications is met, there is no need for any experience requirement as a restraint in the voting process.
The same is true for gender: There are ten females and seven male judges remaining. As both numbers exceed the minimal reqirement of six, there is no gender restraint in the voting process either.
As the geographical regions have already been assigned their numbers in the 2012 election, we only need to look at the Latin American/Caribbean group (GRULAC). Here, only two judges remain on the bench, namely Silvia Fernández de Gurmendi of Argentina and Olga Venecia Herrera Carbuccia of the Dominican Republic. As the GRULAC countries are entitled to three judges, the regional requirement will come into play. 
In short: One GRULAC seat is open, one GRULAC candidate has to be chosen. Thus, only GRULAC candidates will be considered in the by-election.
Nominations
The nomination period was to end on 8 October 2013 provided that there were at least twice as many candidates as open requirements. If that had not been the case the nomination period could have been extended up to three times, for two weeks each.
The GRULAC states nominated two candidates, both male and both with a List A background. Trinidad and Tobago nominated a member of its Supreme Court, Geoffrey A. Henderson, and Uruguay nominated Leslie van Rompaey, a former Chief Justice of his country's Supreme Court. As there is only one seat open and there are two candidates, the nomination period concluded as scheduled on 8 October 2013.
Election 
In the election which is scheduled to take place on the Assembly's first day, on 20 November 2013, the winning candidate must receive two thirds of the votes. As each of the 122 states parties has one vote, the threshold will at most be 82. Invalid and blank votes will be disregarded in the determination of a two-thirds majority. As the relevant provisions stipulate that the number of candidates must always be at least twice the number of open seats, there will be no elimination of candidates in the election process.
Given the precedents set in previous elections and given that there is no possibility to replace the candidates and agree on a compromise candidate, it has been customary for the less successful candidates to withdraw more or less voluntarily after a few ballots and thus hand the election to the more successful candidate.
Regardless of whether Henderson or van Rompaey is chosen to succeed Carmona, the by-election will again find all sector requirements once again fulfilled. This will hold, assuming no other exits, until the next regular election in 2015, at which time each sector will have vacancies to be considered in the selection of new judges. 
(Photos courtesy of: ICC-ASP; Trinidad and Tobago Newsday; InfanciaHOY)