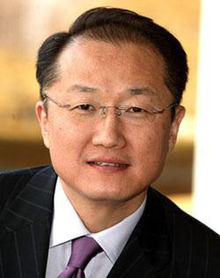 President Obama this morning nominated Dr. Jim Yong Kim, President of Dartmouth College, for the Presidency of the World Bank. (See video of the announcement here.) If elected by the Bank's Board of Directors in late April, Dr. Kim will succeed Robert Zoellick when the latter's term ends on 30 June.
Kim was chosen over a number of other rumored current and former administration officials based on his extensive background in fighting poverty and infectious diseases in many of the world's poorest areas. He cofounded and led Partners for Global Health in 1987 and helped develop a treatment for a drug-resistant strain of tuberculosis while working in Peru in 1999. From 2004-2006, he directed the World Health Organization's HIV/AIDS department, working with countries to scale up programs on the prevention and treatment of HIV/AIDS. He was the chair of Harvard Medical School's global health and social medicine department before being selected as President of Dartmouth in 2009. This experience in poverty reduction, global health and development were noted in President Obama's announcement this morning.
Obama said Kim, a Korean-born physician and pioneer in the treatment of HIV, AIDS and tuberculosis, has the breadth of experience on development issues needed to carry out the financial institution's anti-poverty mission.

"It's time for a development professional to lead the world's largest development agency," Obama said Friday morning during a Rose Garden ceremony.
Kim was born in South Korea in 1959 and moved with his parents to the United States when he was 5 years old. He grew up and went to school in Muscatine, Iowa, where he was class president, valedictorian and quarterback at the local high school. He credited lectures offered by the Stanley Foundation, based in that city, as challenging him as a young man to think globally.
Obama's announcement today came as the deadline for nominations was about to pass. The last minute decision allowed fervent speculation on the possibility of a non-American emerging as candidate suitable to the Bank's board (and, as the voting shares would dictate, not opposed by the United States). Development expert Jeffrey Sachs even secured the backing of several governments in an independent bid for the post.
Upon the announcement of Kim's nomination's Sachs offered his congratulations and effectively withdrew from the race.
"I support this nomination 100 percent, with my complete enthusiasm.  Dr. Kim is an outstanding development leader, one of the great public health specialists of our age.  He will make a historic contribution to the fight against poverty, hunger, and disease.  He is exactly the kind of professional needed at the helm of the World Bank. I strongly commend President Obama for this selection.

I am grateful for your support during my brief candidacy for this position.  My campaign was launched to promote a core idea: that the World Bank can be a great development institution, and that to accomplish this, it should be led by a true development professional, with the expertise and lifetime commitment and experience to get that accomplished.  This campaign, joined by all of us, has succeeded today.  The US nomination is a superb candidate who deserves the world's wholehearted supported, and who will make great contributions in the years ahead.
It appeared to many observers that the United States was providing the space for a more open, competitive race. A former World Bank official suggested that this was "the first time in history we have a truly contested election." The Wall Street Journal described the United States' decision to wait until the last minute as "creating the first competitive race in the bank's history."
Civil society groups which had called for a more transparent selection process seemed happy with Kim's nomination:
"…unlike political insiders, former politicians (successful or not), commercial bank presidents or self-made rich men US presidents have annointed before, Kim seems to meet the leadership, experience and results qualifications the owners of the World Bank have set for their decision-making criteria."
Sachs echoed the sentiment, suggesting that speculation on other development experts as possible candidates introduced a competitiveness which the United States had to engage by putting forward an unquestionably worthy nominee.
"We have all won today, with the World Bank helm given, for the first time in the Bank's history, to a world-class development leader."
This sounds very good, and without intending to tamper the enthusiasm for the far better result that Kim's nomination represents, I find the accolades a bit premature and the satisfaction being expressed anti-climatic. Kim will certainly receive the approval of the Bank's board next month, so is his selection truly open and competitive?  Bank member states are being offered a very experienced and highly qualified candidate, but one who will not undergo a genuine and rigorous vetting by any of Bank's other members other than the United States, nor one who will face a genuine vote.
We should applaud that a sense of competitiveness influenced the nomination phase of this year's selection. We should continue to press for more openness in the competition, however. As has been established in other major multilaterals, this could be accomplished by providing that future Bank appointments include, across different if overlapping phases,  consultations among governments, a more public approach to narrowing the field of candidates, and holding a roll call vote (with secret ballots) on the final short list of candidates.
Including these aspects, which members states have used in other multilateral selections, will then ensure that the Bank enjoys truly competitive selections of its highest office.