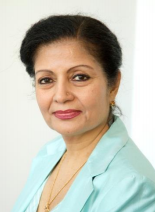 UN Women announced yesterday that Lakshmi Puri, the Deputy Executive Director under Michelle Bachelet, assumed the top post as acting head on 26 March.
Secretary General Ban Ki-Moon designated Ms. Puri (biography) as the acting head of the organization, until further notice.  Ban also released the note verbal which invites nominations for candidates to head the still-new organization. Bachelet's resignation mid-term last month came as a surprise and her successor will likely be chosen by mid-summer. The Secretary-General described his ideal candidate as having
Demonstrated knowledge of the issues and challenges in the areas of gender equality, women's empowerment and challenges, needs, and women's rights, including the ability to be a powerful and convincing advocate on all aspects of these issues, within the United Nations system, with Governments, and with civil society organizations, as well as the wider public;
Impeccable personal and professional integrity, with unimpeachable interpersonal and political skills;
Demonstrated leadership experience with strategic vision and proven skills to manage a complex organization, as well the ability to mobilise various forms of support from multi-stakeholders and partners;
A good understanding of the United Nations system and ability to lead efforts for a more effective and coherent United Nations response at all levels.
Nominations are to be sent to the Secretary General's senior appointments team by 13 May 2013. The narrowing of candidates during the search for the agency's founding Executive Director lasted approximately 7 weeks, and Bachelet initially resisted encouragements to accept the post. This year's selection will almost certainly move more swiftly, and the process may be close to an end by the annual meeting of the UN Women Executive Board, 24-28 June — six weeks after nominations close.
Photo Credits: UN Women Gallery; UN Photo/Ryan Brown