Roberto Carvalho de Azevêdo, Brazil's ambassador to the World Trade Organization, was announced yesterday as the consensus candidate for the organization's new Director General. 
Azevêdo secured at least 93 votes out of the organization's 159 member states, beating Herminio Blanco of Mexico, in the final round of consultations. He will succeed Pascal Lamy, of France, whose second term wraps up at the end of August. His selection was the culmination of a nearly 6 month process in that is remarkably transparent and accountable in comparison  to his counterparts at the World Bank and IMF.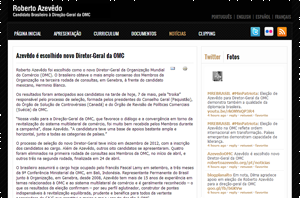 Nine candidates were put forward for the post, the highest number in the organization's history, including three women from three continents. A deadline for nominations eliminated the possibility of "dark horse" candidates. Nominees met with the organization's membership in January in an open and engaging discussion between candidate and member state, with the event webcast via the WTO website for the wider public.
The nine candidates engaged in dialogue with members for a number of months. Several launched campaign websites, Twitter feeds and Facebook pages.  All engaged with civil society as well as governments. A defined process for narrowing the field toward a consensus candidate was agreed to in March and carried out expeditiously by the governing General Council's chair and co-facilitators. A critical element in the process involved the obligatory withdrawal of candidates who failed to secured "broad support" across the membership at large and its various categories. Though some criticism arose in some members' participation in this aspect of the process, the objections seem more likely to result in a refinement of the process than in an obstruction of Azevêdo's formal appointment by the General Council this month.  
Room remains for improvement, but in comparison to many other multilaterals, selection the Director General of the WTO is a model process. Since being codified in 2002, it has sustained regional challenges, competitive campaigns and disagreements on implementation, nonetheless producing a viable and respected consensus candidate in multiple elections. Arguments against reform at the IMF, the World Bank and other multilaterals for more open processes are difficult to sustain against the WTO's record. 
Photo credit: Reuters/Luke MacGregor