The UN Security Council met Wednesday for its first formal discussion on the process of selecting the next UN Secretary General.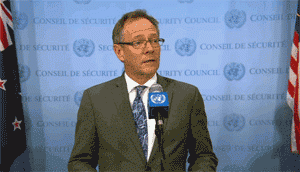 The meeting was closed to press, but comments afterwards from Council President Gerard von Bohemen of New Zealand (UN Video, 2:10) and UK Ambassador Matthew Rycroft (InnerCityPress video) alluded to points that were discussed during the Council session. Bohemen described the discussion as "quite a lively exchange" among Council members, including on reforms proposed by the ACT group of states. Rycroft shared that there remained a strong call for increased transparency, particularly that the Council needed to be clearer on how the process would unfold and its timeline. He implied however, that following the meeting Council members were still uncertain as to "who would write to get this thing started."
Groups like 1 for 7 Billion and the ACT Group of States have suggested that a first step would be a joint letter from the Presidents of the General Assembly and the Security Council inviting nominations. Such a letter would not need to discuss the vetting process, but rather how a candidate would formally present themselves for consideration. This has historically required a letter from a member state to the President of the Security Council. Following yesterday's discussion, Bohemen noted that while no decision had been made, that practice was again suggested.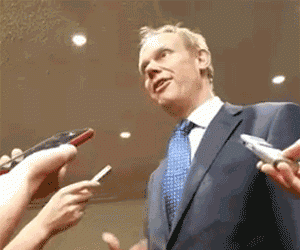 Rycroft noted that this was the first of several discussions to be held by the Council, among others by the General Assembly and civil society groups. He conveyed that Ambassador Román Oyarzun noted that discussions on the "working methods of the Council"- an allusion to how the nominations would be handled and vetted – would take place during Spain's presidency of the Council in October.
The first nominations are likely to be announced shortly before or during the opening of the General Assembly's 70th session in September. An official with the Slovene mission suggested to Global Memo earlier this year that Danilo Türk was likely to wait until then to confirm his rumored candidacy. Ambassador Rycroft proposed during the June 30th ACT-hosted briefing that the Council set a deadline of December 2015 for nominations. If adopted, it would leave a window of remarkably short 3 months for nominations to this top post to be received.
On popular reform proposals that have been put forward, Rycroft shared that there was strong support among the Council members for gender equality in the consideration of nominees. He and von Bohemen noted that regional rotation has been discussed and that it was an important point for many Council members. (Rycroft reiterated that it was not an important consideration to the UK, but Bohemen suggested that there was no overt disagreement on it during the discussion.) Rycroft also confirmed interest by the UK in holding Arria-formula hearings with leading candidates, and that the UK would convene these itself if they were not held otherwise.