This week, the UN Security Council took up discussion on a joint letter that would kick off the search for the next UN Secretary General. A draft text (see below) was circulated by the United Kingdom, which currently holds the presidency of the Council. If the text receives approval this month, it would be released to all UN member states from General Assembly President Mogens Lykketoft and UK permanent representative Matthew Rycroft.
A source present during the Council's discussion confirmed that Russia continued to try to derail release of a joint note. During the debate, Ambassador Vitaly Churkin objected to the content of a text, when it might be released, and whether reforms to the selection process were even needed.
The draft text circulated by the United Kingdom encourages the nomination of female candidates for the post, to which Russia has objected publicly and privately before. (At one closed meeting earlier this year, the permanent representative from Chile reportedly invoked "Mother Russia" in responding to Churkin's derogatory comments about "women empowerment" by the UN.)
The text leaves out any mention of geographic rotation, an important aspect to the Eastern European group and, within recent months, also to Russia. Including a specific reference to it being Eastern Europe's "turn" at the post or even codifying regional rotation in the letter would be unprecedented, and would undermine the search for the most qualified candidates regardless of national origin. Churkin "regretted the fact" that the text did not reference rotation, and speculated that others in the region might push Russia to veto any non-Eastern European candidate.
The momentum for a more transparent process however makes a joint letter a virtual certainty, though when it should be released is less clear. Russia confirmed earlier this month what Global Memo reported a few weeks before, that it was opposed to this Council starting the process until January 2016.
"We cannot do it without Ukraine and Uruguay and other new members. Really it's impolite because the new members are going to be the ones … doing the whole process, so how can we announce the process without them," Churkin told Reuters.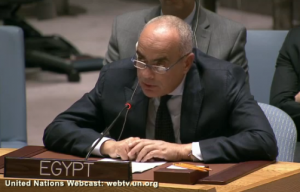 Advocates of an expeditious commencement of the process, including incoming member Egypt, however have noted that those states have participated in Council discussions since being elected and are quite familiar with how the process would likley unfold. Missions of other incoming members, such as Senegal, are working on the basis of what information they are able to obtain while awaiting specific instructions from their foreign ministries.
Overall, Russia's position appears to be simply one of delay and obstruction. The government considers the P5-dominated ad hoc selection process to have worked fine so far and any reforms will simply mess it up. China reaffirmed its support for the Russian position during the discussion, while other Council members supported adoption of the British text with differing degrees of enthusiasm.
The text itself will please some advocates of reform and disappoint others. As noted, it recognizes that "the strongest field of candidates will be one that includes good representation by women" and "invite[s] the presentation of women candidates for the position." It echoes General Assembly resolution 69/321 in noting specific criteria for candidates including
"proven executive level management and leadership skills,…integrity, independence, moral courage and impartiality,… [e]xtensive experience in international relations and sophisticated diplomatic communication skills"
and other qualifications. "She or he should show moral and intellectual as well as political and public affairs leadership."
The text notes that 69/321 called for informal dialogues between candidates and the General Assembly, but here is where it is important to read the language very carefully.
"That resolution also provides for informal dialogues or meetings of the General Assembly with candidates, while noting that any such interaction will be without prejudice to those who do not participate. It would be beneficial as well for there to be interaction of individuals under consideration with Security Council members."
Notice anything, keen readers? While mentioning that the General Assembly resolution encourages such meetings with non-Council members, the UK text subtly fails to endorse such, here or elsewhere in the letter. It only speaks positively of "interaction of individuals under consideration with Security Council members," (emphasis added).
It offers no concrete timeline, suggesting merely that "[t]he Council plans to begin the selection process during the Summer of 2016" and that it should conclude sometime in September. In another blow to transparency and accountability, it refutes a deadline for nominations to be received.
"An initial idea – by the Spring of 2016 – of those putting themselves forward will help the Council's deliberations; nonetheless, this should not preclude others making themselves known throughout the process, as appropriate."
For dialogues with candidates to matter, non-Council members must have sufficient time and opportunities to engage them. Without a deadline, a "dark horse" candidate could be held back until too late for meaningful engagement with the General Assembly. Should the United Kingdom or the United States for example prefer candidates willing to promise top posts in the Secretary General's cabinet, it would be useful — for them — to minimize the chance of candidates being asked about that by non-permanent members.
The United Kingdom has been a vocal proponent for a better process, proposing three guiding principles for the selection. These include gender equality, a clear deadline for candidates to declare themselves and a clear date for the selection to take place, and opportunities for candidates "to present their priorities to the whole of the UN, and to the world at large."
This draft text notably fails to live up to these ideals. By even the most generous interpretation, it can only be seen as echoing the call for gender equality. The ability of candidates to come forward throughout the process negates the call for a clear deadline or selection date, and the disregard given 69/321's call for informal dialogues between candidates and non-Council members is a slap in the face of the General Assembly.
While the draft letter fails in pushing these substantive and important reforms, its very existence is a major leap forward. But it is now up to other UN member states and advocates of the UK's own principles, such as the 1 for 7 Billion coalition, to urge courage in bringing forth stronger language in a new draft text.
(Open the draft text in a separate tab or window here.)
https://globalmemo.org/wp-content/uploads/2015/11/Draft-Joint-Letter-2.pdf