In yesterday's post, I noted that Syria is being pressured by some Arab governments  to withdraw its candidacy for the Human Rights Council elections later this month. Should Syria take the hint, the Asian regional group will almost certainly nominate Kuwait for the open seat.
Why Kuwait?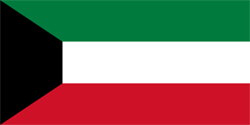 A cursory look at possible challengers to Syria shows Kuwait to be the best possible candidate (that should have been put forward in the first place).
It is one of only six Asian Group states that are also members of the Arab League (which will want to hold onto the open seat) and is not already on the Council, the others being United Arab Emirates, Lebanon, Oman, Iraq and Yemen.
Kuwait and Lebanon are the only two of these that score as at least "partly free" in Freedom House's rankings. Lebanon loses steam however with the fact that it is the only one of the six that has not signed the Rome Statute. (Becoming a signatory to the Statute, even without completing ratification, generally signals that a government will not committ aggregious human right violations. In many observers' view, this is an informal prerequisite to deserving a spot on the Council.)
Will Kuwait challenge Syria's record of human rights abuses, rightfully condemned by the very Council it seeks to join ? As of yesterday, diplomatic sources felt that Kuwait would step forward but only if pressure from other Arab states convinced Syria to withdraw of its own accord.