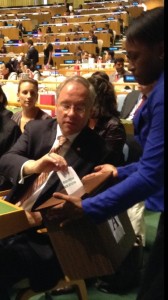 In a single round of voting last week, fifteen countries were elected to three-year terms to the United Nations Human Rights Council.
Members are elected by the General Assembly, with each of the electoral regional group reserved a number of seat each year. To win a seat, candidates must receive a simple majority of votes, typically between 92-95 depending on the number of valid ballots cast. States may serve two consecutive terms, after which they are not eligible for immediate re-election.
This year, six of the seventeen candidates sought re-election to the Council. Five of the six secured a second term and will serve through 2017.
In theory, the Assembly is to consider candidates' contribution to the promotion and protection of human rights in electing them to the Council. In actuality, the General Assembly is often presented with closed slates, chosen by each regional group, to fill only that number of each region's reserved seats open each year. As such the members of the Assembly often have little choice in who gets elected. Peggy Hicks with Human Rights Watch commented after the 2012 election that "[t]o call the vote in the General Assembly an 'election' gives this process way too much credit. Until there is real competition for seats in the Human Rights Council, its membership standards will remain more rhetoric than reality."
This year, three of the five regional groups this year presented such closed slates, restricting the Assembly's option in terms of a genuine selection based on candidate's record of support of human rights, domestically and as an international norm.
Candidates from the Western and Eastern European groups and the African states faced no opposition to their bids. Only the Asia-Pacific and Latin American groups put forward more candidates than available seats seats, ensuring a competitive selection and consideration of the nominee's records.
The Netherlands was re-elected to a second term for the Western European states, joined by first-time Council member, Portugal. Eastern European states Albania and Latvia also secured their first terms on the Council. The Congo and Botswana secured re-election to two of the four African seats, with former members Ghana and Nigeria returning the Council in the remaining two.
The Asia-Pacific region put forward five candidates for its four open seats–Bangladesh, India, Indonesia, Qatar and Thailand. All five secured the necessary majority to win election, but with only four available seats, Thailand's last place finish meant it came up short in its bid this year. India secured the highest number of votes among all states on a competitive slate. After the results were announced, the office of the Prime Minister tweeted out his "joy at ending being re-election" with such strong support.
India emerged on top among the Asian group and has been re-elected to UNHRC.

— PMO India (@PMOIndia) October 21, 2014

Indonesia was also elected to a second term on the Council, and Bangladesh returned after serving from 2007-2012. The country came in second among the regional competitors despite it's UN ambassador's claims that unnamed organizations in Hong Kong were "aggressively campaigning" against its bid. Four Latin American states competed for three seats on the council. Bolivia secured a second term, joined by El Salvador and Paraguay. Costa Rica (history on Council?) lost its bid for second term. Like Thailand, it managed to gain the necessary votes, but came in behind other regional candidates.  
 Regional Groups
 Candidate
Votes Received
Africa (4 seats)
Botswana
183
Congo
185
Ghana
187
Nigeria
187
DRC
2
Benin
2
Asia-Pacific (4 seats)
India
162
Indonesia
152
Bangladesh
149
Qatar
142
Thailand
136
Kuwait
2
Cambodia
1
Philippines
1
Bahrain
1
Eastern Europe (2 seats)    
Albania
176
Latvia
175
Lithuania
1
Czech
1
Romania
3
Latin American & Caribbean (3 seats)    
Bolivia
144
Costa Rica
120
El Salvador
151
Paraguay
139
Peru
2
Western European & Others
(2 seats)   
Portugal
184
Netherlands
172
Italy
1
Greece
1
During the balloting, Twitter lit up with photos and "selfies" by delegates in the General Assembly Hall capturing the voting as it took place. The Assembly President Sam Kutesa reminded official journalists "not to focus their camera on delegations during the voting process taking into account this is a secret ballot in accordance with the rule of procedure of the General Assembly."  The same took place the previous week during the election of non-permanent members of the Security Council.
Yes, a selfie with the ballot! (Is someone @NorwayUN reading my tweets?) pic.twitter.com/Vwmsp6f3Bz — Tony Fleming (@tonyfleming) October 16, 2014
The new members will take their seats on 1 January, succeeding Austria, Benin, Burkina Faso, Chile, Costa Rica, Czech Republic, Kuwait, Peru Philippines and Romania. The terms of these states had originally been scheduled to end in June, but was extended to match the more common terms of rotating seats in the UN system by resolution 65/281. Starting in  2013, the Human Rights Council started its yearly membership cycle on 1 January.