The World Health Organization's incumbent Director-General got an early boost toward re-election this week at the organization's World Health Assembly meeting.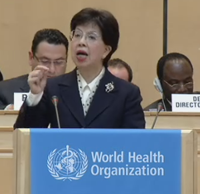 Dr. Margaret Chan will hold office through June 2012. During this week's Assembly meetings, the United States strongly indicated its support for her candidacy for a second 5-year term despite the fact that the nomination process won't even begin for another two months.
Kathleen Sebelius, the US Secretary of Health and Human Services (HHS), gave a press briefing today on the side of the 64th World Health Assembly (WHA). The WHA is taking place from 16-24 May.

Sebelius quickly expressed her support for Chan's work to date, and signalled US support for her candidacy for election as head of the WHO next year.
…
A US mission spokesperson clarified after the event that "the call for nominations for director general of the World Health Organization will not take place until the summer of 2011 and no candidates have yet been announced. The United States has been impressed with Dr. Chan's service and would certainly be pleased to see her as a candidate for a second term," according to a US Mission spokesperson afterward.
On Friday afternoon, the Assembly's Committee B will consider an interim progress report from a working group established in January to consider changes to the process for electing the Director-General. While the report notes several interesting proposals — regional rotation, financial support for candidates from poorer Member States, and multiple nominees — there has not been consensus on any of these.  The Executive Board, meeting later this week, is not likely to adopt any of these, so the existing rules will remain in place for the upcoming nomination process.
The nominations process will begin in mid-July with Dr. Chan inviting Member States to submit names for nomination by the Executive Board early next year.  Though candidates do not have to be nominated by their home government, Dr. Chan is likely to be formally nominated again by China. (Though given Sebelius' praise, perhaps we shouldn't be surprised if the U.S. jumps ahead and nominates her!)  The nominations process will run from the time of the announcement through mid-November, two months prior to the next Executive Board meeting.
At that January meeting, the Board will narrow down the list of possible nominees. It will also receive a new report from the working group and may implement changes that affect its decision. This may, as mentioned above, limit consideration of candidates from a specific region — and likely not Asia — and/or nomination by the Board of two or more candidates rather than  just one. Whichever nominee(s) are chosen by the Board will be forwarded to next year's World Health Assembly for appointment.