On Thursday, five new members of the Security Council will be elected by the General Assembly. These five members will continue on the Council through the nomination and election of the next Secretary General in 2016.
Rumors, speculations and whispers over Ban's successor have circulated since probably the day he assumed office in 2007. The most common assertion is that he or she must be an Eastern European national, as that region has never held the post and it is only fair to now look to it for a nominee. While fairness has rarely been a stated qualification in regards to who will assume the office, there is a strong chance the diplomatic consensus will unite around this view.
The obvious critique of this is that Russia will find any Eastern European candidate difficult to accept, a hold-over policy from the Soviet era that, like others, President Putin may reassert. However, Putin may be more accommodating or strategic on this, seeing that the alternative would likely be a western European. No national from that region has held the post since 1981, and Helen Clark continues to be mentioned as the likely front-runner should Eastern European states fail to put forward an acceptable candidate.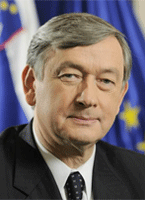 The United States, which will be in the middle of a tough presidential election in the summer of 2016, will be looking for candidates willing (on occasion) to take a moral stand–against terrorist groups or other disruptions to a stable international order. Russia, for obvious reasons, will much more prefer the office-holder remain quiet about what the big powers may or may not do. This will make any race in which Eastern Europeans are considered the sole contenders very interesting to watch.
This is not to be cynical or to doubt the qualifications of potential candidates from Eastern Europe. In fact, I now expect East European states to put forward strong candidates and for states from other regions to honor their rotation, at least initially. When I first returned to this topic last year, Richard Gowan and others had suggested several officials who have distinguished themselves in either national or international office and would almost certainly do likewise as Secretary General. Among those were former Slovene president Danilo Türk, Slovak diplomat Jan Kubiš, and current UNESCO Director General Irina Bokova from Bulgaria.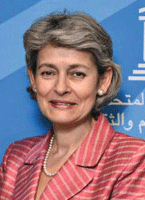 Since then others have been noted as possible nominees. Denis Fritz at UN Tribune was sufficiently impressed with last year's address by Lithuanian president Dalia Grybauskaite to the UN General Assembly to suggest her as a possible candidate. Last year's General Assembly president, Vuk Jeremic of Serbia, was widely rumored to be seeking support for a bid. The Economist noted the "buzz" earlier this summer that Kubiš might face a challenger from home, current Slovak foreign minister Miroslav Lajčák. In an update this year, Gowan noted Bokova's compatriot Kristalina Georgieva, the current EU Commissioner for humanitarian aid as a "compelling candidate" for a number of reasons.
The first steps toward a formal nomination was be the potential candidates receiving the backing of their respective governments. Kubiš has noted that, if he can secure such support, he "would like to be considered for the post," according to the Economist article.
Türk was endorsed by Slovenia's parliament in January, and Bokova was officially nominated by Bulgaria in June. In a note to Global Memo last month, Bulgaria's former Foreign Minister Kristian Vigenin noted that Bokova's candidacy would "be supported by all institutions and by the main political parties" but that next steps would need to wait until the new government was elected. Yesterday, he confirmed in a follow-up that the "[d]ecision is made, it binds all future governments, no new (re)confirmations are necessary."  (This would of course suggest that a potential bid by Georgieva is null and void.)
The next step would be a letter of nomination from the Bulgaria's current Foreign Minister Daniel Mitov to the President of the Security Council, that would then be circulated to all members of the Council. Such communications at the moment, however, would be premature. The Security Council is likely not to take up discussion on the process until late in 2015, perhaps during the U.S. Council presidency in December.
As the selection in 2006 came down to whom was acceptable to both China and the United States, this round will be decided by the U.S. and Russia. Gowan noted in his 2013 article the question of Syria in determining the outcome; that is now further complicated by the Russian incursion into Ukraine of course.
If Eastern European states are serious about securing the post, they need to quickly assess their potential nominees. Any official who has appeared too pro-Western or anti-Russian will be a non-starter. This could eliminate many officials who have pushed for closer relationships with the EU or beat up on Russia in seeking national office. (It's certain to also cull from serious consideration candidates from any former Soviet republics, such Grybauskaite.)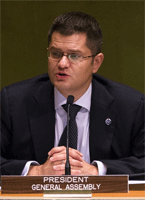 The region's best move may be to create a short-list of nominees who have avoided this domestic political trap through leadership at UN agencies or other international posts where political or security questions are less front and center.
For this reason, Bokova and Jeremic have a decidedly favored advantage. Jeremic however would be vetoed by the United States. The "frenetic" Serbian diplomacy against the recognition of Kosovo during his term as Foreign Minister annoyed many Western governments. As a President of the UNGA, he was unusually confrontational to the West, lecturing the United States on funding cuts surrounding the question of Palestinian recognition, and hosting a thematic debate on war crimes and international tribunals, boycotted by the United States, Canada, and Jordan for its bias toward Serbia.
This provides a very strong opening for the selection of Irina Bokova as the United Nations' first female Secretary General. She was re-elected last year to a second term as head of UNESCO, but drew controversy over a Israeli cultural exhibit at the organization's headquarters two months later, making "the wrong move," according to U.S. Ambassador Samantha Powers. She has been criticized recently for not speaking out against the use of schools and damage to historical sites by Hamas in the Israeli/Palestinian conflict.
Despite the potential drawbacks to each rumored candidate, Eastern Europe's chances of securing the post after 70 years is looking much improved heading into 2015. The caliber of likely nominees is high, momentum in support of region's rotation continues, and official endorsements at the national level are already being adopted. It is possible that 2015 will see "dual duels" with Slovak and Bulgarian nationals fighting it out over a nomination from their home country, even prior to the larger contest in 2016.
More broadly, 2015 being the 70th anniversary of the United Nations will focus additional public attention on the race. Both national and international events will be unable to ignore the upcoming contest, ensuring the more transparent approach from 2006 will continue. Campaign websites are a certainty as will be Twitter and Facebook accounts. The global civic website Avaaz is reportedly planning to mobilize support for the first female Secretary General, and its efforts coupled with those of other civil society groups could have a significant impact on the contest.