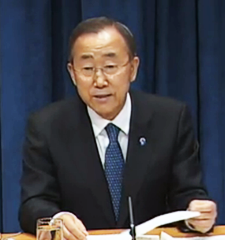 Ban Ki-Moon formally announced his bid for a second term this morning. The Secretary General told a gathering of congratulatory reporters at the United Nations that he had sent letters to members of the Security Council and the General Assembly to "offer, humbly, myself in consideration for a second term as secretary general of the United Nations."
His announcement certainly comes only with his having secured commitments from the P5 members of the Security Council – United States, United Kingdom, China, Russia and France. Public statements from officials from China the U.S. and France support this, and the Security Council began a discussion of relevant procedures only a few hours later. With no challenger in sight, and no invitation for other candidates to come forward, he is expected to be easily confirmed by the General Assembly as early as June 21 if not sooner.
His re-nomination was not alway as certain. Ban risked vetoes from several permanent members during his first few years. He annoyed Russia in 2008 with comments supportive of Kosovo's independence.  He treaded lightly against China, avoiding even criticism of the government's human rights violations against Nobel laureates. Both governments were unhappy with his criticism of actions by government forces in Sri Lanka against Tamil separatists and his support for protestors in Egypt against Hosni Mubarrak.  Failure to substantively reform the UN management led to general overall dissatisfaction by U.S. officials.  As late as mid-March of this year, Deputy Secretary of State Suzanne Nossel expressed the U.S.'s continued concern about the slow pace of management reform.
In addition, Ban was the subject of harshly critical leaked memos, criticizing his performance and accusing him of corruption and "reprehensible" intervention in internal oversight matters. In addition, he lost more than one vote of confidence conducted by the UN Staff Union.
But he has apparently been "bland and conciliatory enough" in responding to P5 concerns that by the end of April, Ban felt comfortably alluding to his desire to serve a second term. Last week, he met with the Chinese vice president and had breakfast with Asian Group leaders this morning prior to the announcement. Though it is the five permanent member votes that really at this stage, Ban is also considered widely supported by middle and smaller pow ers.
Egypt's U.N. Ambassador Maged Abdelaziz, whose country heads the 120-member Nonaligned Movement of mainly developing countries and China, said last month that he knew of no opposition to Ban. "And my feeling is among the countries of the Nonaligned (Movement) that all of us are in support of his election," he told The Associated Press.
Ban took a number of questions during this morning's press conference, many challenging him to speak out against ongoing human rights violations, his earlier commitments to reform and goals he set for his office in 2006. On the question of human rights, Ban highlighted progress made to date across the Arab world, but deflected criticism by insisting that he had done all he could by calling on national leaders in Syria, Yemen and elsewhere to respect human rights. He stressed accountability reforms he had put in place within the Secretariat, including financial reporting requirements and promotion of women to senior positions.
Bill Varner with Bloomberg News, asked Ban about his two top priorities when elected in 2006, ending the atrocities in Darfur and addressing the threat of climate change.
Now neither has been achieved. Now, you might say, nobody can blame you necessarily for those, but don't you think you should be held accountable for the fact that both of those goals haven't been achieved?
Ban did his best to avoid answering the question directly, rambling a bit about ongoing efforts on both issues, the places he has been and people he has met with, and what has still to be done, but eventually had to just settle for stating that both priorities are major challenges and are works "in progress."
Matthew Lee with Inner City Press pressed Ban on the lack of challengers for the UN's top post.  In the context of UN reform and the call for democracy across the Arab world, Lee asked
Do you think there should be another candidate?…Do you think the UN should have a process almost like the IMF has now, in which they have a time for the solicitation of other candidates, a process of interviews, and then a vote, or do you think that is not necessary here?
Ban stated that whether other candidates were nominated was up to member states and that reforming the selection process had been discussed at length in the context of revitalizing the role of the General Assembly. While far from perfect, the 2006 selection was unprecedentedly accountable in the use of such formal procedures as Lee noted the IMF are following; I covered these in my blog on the selection that year and in a graduate program study on improving global leadership selection more generally. In contrast, and despite his protests to the contrary, Ban's reappointment this year is being taken for granted by most observers. No other candidates are even being suggested nor is there is any apparent interest in inviting other nominations or setting a deadline by which they might be accepted. (Compare this to the several names mentioned as potential candidates for IMF chief within days of Dominique Strauss-Kahn's arrest.)
Ban seems in fact to be experiencing a renewed honeymoon with the media. He cautioned the several reporters who preemptively congratulated on him on his second term, asking for due respect to member states' role in weighing his candidacy. He plans to meet with representatives of all 192 member states and, he said, to "humbly seek their support as members of the United Nations. They have the prerogative to make the decision."
The timeline for when members might rubberstamp Ban's re-appointment is frighteningly short. Colum Lynch with Turtle Bay suggested that the Security Council and the General Assembly would meet later this month and likely approve Ban's nomination and appointment by June 21. However, Ban himself suggested this morning that the Council and the General Assembly could reach a decision on his candidacy by the end of this week.
Not only is this timeline so short as to prevent any genuine and public discussion on Ban's candidacy, let alone allow other candidates to be put forward, it would be the earliest renewal of a Secretary-General's mandate in UN history. Kofi Annan's reappointment in 2001, was approved in the Security Council on June 27, at the time several months earlier than such decisions had been adopted in the past.
Prior to this morning's presser, Ian William wrote that "It would imply a tremendous loss of face for Ban, South Korea and even to some extent Asia, if he had overtly indicated interest without being sure that that he had all the ducks in a row." Apparently, he has indeed lined up his ducks and is happily and quickly walking them to a second-term nomination.