The Presidency of the UN General Assembly, to which Qatar's permanent ambassador Nassir Abdulaziz al-Nasser was elected Wednesday, carries little formal power.
The term of office is only one year, and Mr. al-Nasser will not even vote on resolutions before the Assembly during his term. Nonetheless, it is a coveted role, as he will control the Assembly's agenda, speak on behalf of all 192 member states, and can use the pulpit to express views on international events.
The 2011 Election
The post of PGA rotates among the five regional groups of the United Nations. As only one state in a region can hold the PGA every five years, governments announce far in advance their interest. In Mr. Al-Nasser's case, his government announced its campaign in 2002 — 9 years ago!
But Qatar was not the only, nor even the first Asian state, to seek this year's post. Nepal had announced its interest in the seat two years prior, in 2000 — 11 year ago, and two complete regional rotations before the seat was again open. (South Korea would hold the post in 2001, and Bahrain in 2006.)
Nepal carried out a concerted lobbying effort among its Asian neighbors, seeking to be the first South Asian state to hold the post since 1986. The government nominated Kul Chandra Gautam, a former UN Assistant Secretary General and Deputy Executive Director of UNICEF as its candidate.
Qatar's candidate, Mr. Al-Nasser, had served as his government's ambassador to the UN since 1998 and had presided over the 130-member G-77, the largest single coalition of developing countries.
Though the Asian region had presented a multiple-candidate slate in 1991, this is not the norm. Following a practice that often frustrates transparency in those contests where regional rotation is a factor, the 53-member group of Asian states met in a closed meeting in February to decide upon a single candidate to present to the remaining 139 member states.
The vote was close, but "per an understanding" reached before the vote, the results were not released publicly. Despite Nepal's efforts and pledges of support (as well as a grassroots-driven campaign website), Mr. Gautam was unable to secure enough votes and withdrew his candidacy;  leaving Qatar's candidate as the only available choice for the remaining 139 members of the General Assembly.
The secretive, closed process of selecting the PGA is far from necessary.  Even respecting the practice of regional rotation, the Asian group could have put both Al-Nasser and Gautam forward for a vote by the full Assembly. This would have allowed all UN member states an opportunity to assess their respective credentials and cast a vote with meaning. Al-Nasser's credentials may have been difficult to overcome in a competitive race, but Nepal's contributions to the UN peacekeeping made the race very close within the regional group and likely would have in the Assembly at large as well.
Reforming the Process
In 2007, the UNelections Campaign encouraged the Latin American and Caribbean region to engage in a more transparent, merit-based selection of its candidate. Among other steps, they encouraged the use of a pre-defined criteria and an official intra-regional search committee.
The process for developing criteria and identifying a number of qualified candidates from which to choose would accomplish two further things: first, it would give smaller states within your region an equitable chance to put forward qualified individuals for the position.  Secondly, undertaking these processes now would form a foundation for future processes, making the Latin American and Caribbean community better equipped to undertake other high level nominations.

In other words, despite the effort to be invested in an elections committee and/or search committee, the benefits of this investment would extend beyond just next year's selection for the President of the General Assembly.
The appeal recognized that openness and transparency in selecting senior multilateral leaders provides for a stronger organization over time, able to meet its mandate and benefiting those it is tasked to serve.
A transparent and qualifications-based selection process in 2008 will result in better leadership and a more productive General Assembly, having positive effects for your country, others in the region, and the people represented by the UN membership at large.  It will also send a strong signal to all those who depend on the United Nations for their livelihood, security, and human rights, that qualified, effective leaders are in office.
Multiple candidates and agreements to avoid reciprocal voting arrangements also lead to the nomination of better candidates as elections rest on qualifications rather than political deals.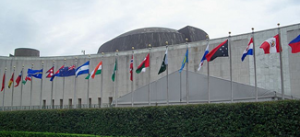 Such recommendations will be even more relevant going into 2012 as candidates from the 23-member Eastern European group of states emerge. Without reform, as few as 12 UN members from a single region may end up dictating for whom the other 180 UN General Assembly members must vote.
(Photos courtesy of United Nations Photo, Wikipedia user Lokal_Profil, and Flickr user mmwm, respectively, under Creative Common licenses.)