This is of course almost two weeks after the fact, but this year's ECOSOC election was fairly non-newsworthy in any regard.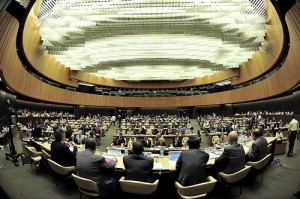 Eighteen candidates stood for eighteen seats, with no surprises among the candidates or outcomes, save perhaps the welcome fact that the new Libyan government was among those nominated and elected from Africa. There was absolutely no competition among the nominees and other intervening projects made it easy for me to delay writing about the outcome. But here is some background and a take-away on this year's election nonetheless.
ECOSOC is 54-member body with seats distributed geographically among the five regional groups: 14 seats for African states; 11 for Asian states; 6 for East Europe; 10 seats for Latin American & Caribbean states; and 13 seats for Western European & Other states. The African group also subdivides its member in Western, Northern, Eastern, Central and Southern subgroups for electoral purposes, as was relevant this election.
Each year, eighteen states are elected by the General Assembly to staggered 3-year terms that run 1 January to 31 December. Candidates must receive the largest vote tallies that constitute at least a two-thirds majority. Members can be re-elected and serve indefinite consecutive terms, with some governments achieving "near-permanent" membership. The five permanent members of the Security Council and Germany have each served on the Council for at least half of its history. In addition, a number of WEOG, Asia and GRULAC members have also come to dominate their region's representation on the Council, regardless of the size of regional groups or their allocated seats.
The elections this year took place on 24 October ("Happy UN Day!") in between rounds of the far more exciting "Battle of Eastern Europe" between Slovenia and Azerbaijan for a seat on the UN Security Council. Five African states competed for 5 African seats, three Asian states for the three Asian seats, and so on.
Prior to this election however, three seats were traded according to intra-regional agreements. Among the WEOG states, Belgium announced it wished to relinquish its seat to the Netherlands and Norway gave up its seat to Switzerland, who will hold the seats through the end of 2012 and 2013 respectively. In Eastern Europe, Hungary stepped aside for the remainder of its term (through December 2013) in favor of Bulgaria. With just a handful of votes going to other states, the General Assembly readily approved these seat-swaps. (Watching this was about as exciting as it sounds.)
In the main event, Japan, France and Germany maintained their "near-permanent" membership. India was re-elected to another term for the Asian group, as was Spain in WEOG.  The five African candidates – Burkina Faso, Nigeria, Ethiopia, Libya and Lesotho – were cleanly elected to the five seats that had been held by neighbors within their respective intra-regional subgroups. Clear slates for the remaining seats in Asia, Eastern Europe, GRULAC and WEOG ensured a smooth and non-competitive victory. Only three votes were cast for states not endorsed by their respective regional groups.
2011 ECOSOC Election Results
| | | |
| --- | --- | --- |
| Regional Group | Outgoing | Incoming |
| African (Western subgroup) | Côte d'Ivoire | Burkina Faso |
| African (Western) | Guinea-Bissau | Nigeria |
| African (Eastern) | Mauritius | Ethiopia |
| African (Northern) | Morocco | Libya |
| African (Southern) | Namibia | Lesotho |
| Asian | India | India |
| Asian | Japan | Japan |
| Asian | Saudi Arabia | Indonesia |
| Eastern Europe | Estonia | Belarus |
| GRULAC | Guatemala | El Salvador |
| GRULAC | Peru | Brazil |
| GRULAC | Saint Kitts and Nevis | Dominican Republic |
| GRULAC | Venezuela | Cuba |
| WEOG | France | France |
| WEOG | Germany | Germany |
| WEOG | Spain | Spain |
| WEOG | Malta | Turkey |
| WEOG | Switzerland | Ireland |