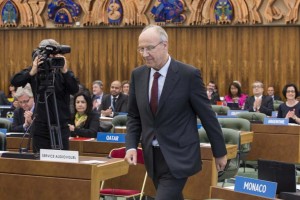 Francis Gurry has been appointed by the member states of the World Intellectual Property Organization (WIPO) for a second term as Director General.
Gurry is responsible for "signing, sealing, and delivering" two new intellectual property treaties, including the 2013 Marrakesh Treaty to Facilitate Access to Published Works by Visually Impaired Persons and Persons with Print Disabilities, the first WIPO treaty ever to focus on granting  access to copyright works rather than on granting new intellectual property rights. He also delivered the 2012 Beijing Treaty on Audiovisual Performances.
Controversies had surrounded Gurry's tenure as head of WIPO, including recent allegations of misconduct (see also report by Fox News); the failure to conclude the fall 2013 General Assembly on time, requiring an extraordinary meeting in December; controversies over the process for establishing new WIPO regional offices; and the (later resolved) shipment of computer equipment to North Korea and Iran.  Some Members of US Congress have opposed his reappointment.
In his acceptance speech, Gurry made note of a number of challenges that lie ahead, including "asymmetries of wealth, opportunity and knowledge; historical and contemporary trust deficits; and the reality of a multi-speed and multi-tiered world in which multilateralism, while being the highest expression of inclusiveness and legitimacy, is nevertheless the slowest solution."  He also thanked the diplomatic community in Geneva, saying  "Ambassadors and their colleagues have been extremely generous with their time and availability, very indulgent of my failings and shortcomings and always willing to engage and to assist in overcoming difficulties."
Gurry, an Australian, was appointed from a slate of four candidates including also Nigerian Geoffrey Onyeama, WIPO Deputy Director General; Alfredo Suescum, Chair of WTO TRIPs Council and Panama's Ambassador to the World Trade Organization; and diplomat Jüri Seilenthal of Estonia.  Seilenthal was eliminated in March.  Gurry's second term will last until 2020.