U.S. Congresswoman Zoe Lofgren (Democrat from California) and four colleagues have released a bipartisan letter (PDF below) calling on U.S. Secretary of State John Kerry to oppose the re-election of incumbent WIPO Director General Francis Gurry over concerns relating to the WIPO export of computers to Iran and North Korea.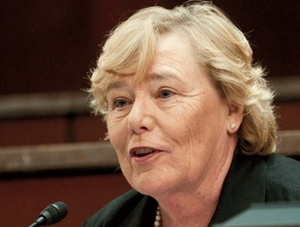 Lofgren has been an activist on intellectual property issues in the United States, opposing the Stop Online Piracy Act, promoting the broadening fair use provisions through the Unlocking Technology Act(see also), advocating open access to taxpayer-funded research, and drafting Aaron's Law to reform the Computer Fraud and Abuse Act, under which internet activist Aaron Swartz, who committed suicide after undergoing prosecution under that act, was charged.
The letter is co-signed by Congresswoman Anna G. Eshoo (D-CA), Congresswoman Ileana Ros-Lehtinen (R-FL), Congressman Howard Coble (R-NC) and and Congressman Mel Watt (D-NC). 
Intellectual property "supporters" such as Tom Giovanetti are, on the other hand, lining up in support of Gurry.  Giovanetti has said, in 2012:
I've been troubled by what I think is an unwise and ill-informed reaction on the part of some in the United States, especially from folks on my side of the aisle, who are rightly skeptical and critical of the United Nations as a whole, but who miss the important fact that WIPO is a different kind of UN agency—indeed, is unique among UN agencies in at least one important respect.
The letter from Lofgren and others calls Gurry's behaviour "erratic and secretive".  It appears that the technology export issue may continue to dog Gurry as the WIPO election process goes forward, and that the larger issues of WIPO transparency and accountability may be important in the race. 
The State Department has yet to respond or comment on the letter. 
(Photo: Chet Susslin)