The process of considering nominations to the post of WIPO Director General began earlier this month, following the issue of a circular (Annex II) by WIPO on 6 September inviting nominations from member states.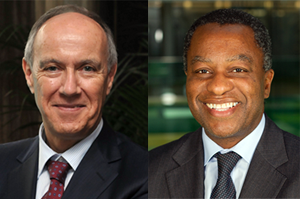 Two names have thus far been raised as serious contenders to the position: incumbent Director General Francis Gurry of Australia, whose first term concludes 30 September 2014, and Geoffrey Onyeama of Nigeria, currently WIPO Deputy Director General (Cooperation for Development). The deadline for nominations to be received is 6 December. 
While a second term is usual for WIPO Directors General, there is said to be dissatisfaction with Gurry on the part of high-income members states in WIPO (Group B in the organization's categories) .  Controversies have surrounded allegations that WIPO exported US technology to Iran and North Korea. There has also been concern raised regarding the addition of new external offices for WIPO which some Group B countries argue may not be necessary or cost effective.  A report from Third World Network notes,
"in 2009, the creation of an external office in Brazil conveniently relocated the competing candidate from Brazil for the head of WIPO (then an employee of WIPO), against whom Gurry won only by a mere one-vote margin in the 2008 elections."
However, it is interesting to note some of the broader politics at play. 
WIPO has recently been an effective forum for interest groups (such as the visually impaired) and developing countries to have a voice in international intellectual property norm-setting. This has been due to the organization being a relatively transparent and more thoroughly multilateral forum than many other forums, such as ACTA or the TPP, recently used for IP negotiations. 
Campaigns to challenge Gurry may have the effect of putting pressure on Gurry and on WIPO, which have together recently been effective in "signing, sealing, and delivering" new IP norms–including a new Treaty to Facilitate Access to Published Works by Visually Impaired Persons and Persons with Print Disabilities.  In this, WIPO has accomplished the first WIPO treaty ever to focus on access, rather than on granting new rights to intellectual property holders.  
It is worthwhile to note that Onyeama, as Deputy Director General for Cooperation and Development, would seem likely also to focus on developing countries–as much or more than Gurry has.  Onyeama's focus as Deputy Director General has been, in part, on creating intellectual property strategies to meet development goals (see feature interview here).
Some see a shift occurring at WIPO, and rights holders, having captured the governments of many Group B countries, may consider WIPO to be moving in the wrong direction.  Further access-related treaties are currently simmering at WIPO, which may feel like an organization out of control to some rights holders.  This, perhaps even more than issues surrounding WIPO exports or external offices, may be part of the larger framework around those forces calling Gurry's second term into question.