The election for the UN Security Council seat this year is over and the votes are counted — with a surprise in the very first round.
Three of the five open seats offered no contest. Angola, endorsed by the African Union in January, secured the highest total of votes in its bid to take over the African seat being vacated by Rwanda. Malaysia enjoyed an easy win as the only candidate for the Asian-Pacific seat, succeeding South Korea.
Venezuela will assume the Latin American and Caribbean seat from Argentina. Though its candidacy was opposed by several U.S. legislators and media organizations, its bid this year was not opposed by the U.S. as in 2006 when it last sought a Council seat. (U.S. Ambassador Samantha Powers did challenge Venezuela's human rights record and conduct in the world body in responding to the election results after the vote.)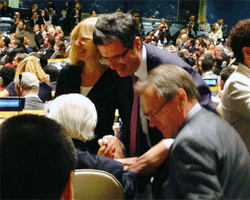 The only contest was for the Western European and Others group with New Zealand, Spain and Turkey campaigning vigorously over the last year for the two available seats. Spain and New Zealand had announced their candidacies almost a decade ago. Turkey was a late entry, deciding to enter the race immediately after its last term (2009-2010) concluded. All three states, along with Angola, Venezuela, and Malaysia had served on the Council previously.
Spain was expected to walk to an easy win for one of the two seats. That was not to be the case.
In a surprise victory, New Zealand jumped ahead of both of its competitors with 145 votes of the 193 valid ballots. Spain picked up 121 and Turkey secured 109. With neither getting the necessary 129 votes, voting went to a second round. This round was restricted, per voting rules, to the two remaining candidate states. Ballots marked with the name of any other state were marked invalid and not counted.
When the second round ballots were counted, Spain once again failed to secure the necessary 129 votes that would give it the remaining seat. It received 120 of the 193 votes cast, with Turkey winning votes from 73 members. It lost one vote between rounds, suggesting one state that supported it on the first ballot had also voted for Turkey, but favored Turkey over both Spain and New Zealand.
During the third round of voting, Spain picked up 12 of 13 votes that had gone to Turkey in the previous round. This provided it sufficient support to win the second WEOG seat.
The final tally was as follows:
| | | | | | |
| --- | --- | --- | --- | --- | --- |
| Region | State | 1st Round Voting | 2nd Round voting | 3rd Round Voting | Previous Council experience |
| Africa | Angola | 190 | — | — |  Once (2003–2004) |
| | Congo | 1 | — | — |  Two times (1986–1987, 2006–2007) |
| Asia-Pacific | Malaysia | 187 | — | — |  Three times (1965, 1989–1990 and 1999–2000) |
| WEOG | New Zealand | 145 | — | — |  Three times (1954–1955, 1966 and 1993–1994) |
| | Spain | 121 | 120 | 132 |  Four times (1969–1970, 1981–1982, 1993–1994 and 2003–2004) |
| | Turkey | 109 | 73 | 60 |  Four times (1951–1952, 1954–1955, 1961 and 2009–2010). |
| GRULAC | Venezuela | 181 | — | — |  Four times (1962–1963, 1977–1978, 1986–1987 and 1992-1993) |
| | Brazil | 1 | — | — |  Ten times (1946–1947, 1951–1952, 1954–1955, 1963–1964, 1967–1968, 1988–1989, 1993–1994, 1998–1999, 2004–2005, 2010–2011) |
In my previous post, I got the result on the remaining WEOG seat wrong.  The prevailing view was that Spain would win clear support in the first round and that the race would come down to New Zealand and Turkey. I anticipated Turkey edging out New Zealand, with many UN members hoping for an additional voice in the Middle East on the Council's efforts to address the Syrian conflict, nuclear proliferation and the ongoing Israeli/Palestinian conflict. Mark Goldberg of UN Dispatch posited the impact that the Turkey might have had on the recognition of Palestinian statehood.
"Mahmoud Abbas is trying to gin up support for a Security Council resolution that would set a deadline for the two state solution and Israeli withdrawal from the West Bank. Turkey would almost certainly be one more vote in favor of this measure. …With Turkey on the council, the USA is more likely to face the uncomfortable decision of whether or not to cast a veto–which, in effect, could be read by many as a veto against the two state solution, which is a policy the USA adamantly supports. So again, this could be very awkward and damaging the US credibility on the Arab-Israeli conflict and possibly undermine foreign policy priorities elsewhere."
Turkey's failure to secure the seat may have resulted from exactly that concern. In 2010, it joined Brazil in voting against a resolution condemning Iran's failure to comply with previous Council resolutions concerning its nuclear program. Concern over this might have turned a number of states against Turkey, seeing it as not a team player.  This will complicate how the Council addresses the Syria crisis, given that Venezuela will likely favor Assad during any Council negotiations, a position that will not be countered by Turkey's opposition to the regime.
New Zealand's win may suggest that the interests of small states will be taken more seriously over the next two years. It was endorsed by the Pacific Islands Forum, which is facing the most impact from climate change and related issues. It will also be interesting to see if former prime Minister Helen Clark–who announced New Zealand's candidacy for the Council during her term in 2004–will try to enter the race for Secretary General despite the prevailing view (hmm…) that the post should now go only to nominees from Eastern Europe.