Valerie Amos' announcement resignation last week from OCHA has sparked the search process for another UK national to head the humanitarian agency, and raised more than a few questions about appointment by the Secretary General.
The head of OCHA is one of several top posts which, since 2007 at least, has been a political appointee reserved for one of the permanent five Security Council members. Despite calls for an open process from other (read: non-P5) governments following Amos' announcement, the post will remain reserved for a Brit. The UK had typically held the Department of Political Affairs, but Ban Ki Moon instead appointed an American to that post – reportedly as payback for their support of his candidacy. Ban instead appointed former British diplomat John Holmes to head OCHA. Holmes was succeeded in 2010 by Valerie Amos, who has served as international development secretary in the British government since 2003.
What is intriguing election and appointment observers is speculation that Amos' resignation was decided not from within OCHA or the Secretariat, but from 10 Downing Street. Despite the kudos she's received for her response to several high-profile crises, reports suggest that Prime Minister David Cameron wants to replace her with Andrew Lansley, a conservative political ally. Lansley has no background in development or humanitarian aid and is best known for the highly criticized UK health program reforms. Many observers consider the nomination a "joke" and an "appalling" idea.
#IsThataJoke? @alexevansuk on Andrew Lansley as the UK's candidate for UN Emergency Relief Coordinator http://t.co/G38ilxZ3zl

— Tom Murphy (@viewfromthecave) December 1, 2014
Cameron is reported to have discussed Lansley with Ban during the G20 summit in Brisbane, over a week before Amos announced her resignation to her own staff. Ban is apparently unwilling to accept a single nominee however, and had requested from Cameron at least two other names for consideration as he did in 2010. Reportedly, Cameron has refused this request and is sticking to Lansley as the only nominee.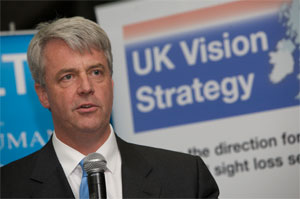 If a member state—even one of the P5—can dictate the resignation of a member of the Secretary General's cabinet without cause — and that person's replacement — it significantly undermines the sworn political independence and impartiality of those persons as well as the authority of the Secretary General. Sadly, it also reflects the transparently politicized approach that Ban has followed throughout his administration, including appointing Amos in the first place. Her appointment in 2010 was criticized by major humanitarian groups as being more political rather "meritocratic," a view echoed by others.
Ban has stated that the nomination will proceed through the UN's internal recruitment process, but this is meaningless in light of his understanding of such. In 2009, the General Assembly requested measures be put in place to address the many exceptions to established rules of selection and promotion of staff. Ban's response was considered inadequate and the Assembly charged the Joint Inspection Unit with reporting on possible measures to further transparency in selecting senior managers.
Unlike most Under Secretaries General, the USG for Humanitarian Affairs is appointed directly by the Secretary General. For those which are not reserved for the P5 or other powers, such as the UNDP, the usual process involves a small team of senior officials who prepare a shortlist of candidates whom the Secretary General would interview before making a selection. In selecting Amos' successor however, Ban will likely rely on the British government to produce his short-list, if Cameron consents to do so. The involvement of outside humanitarian experts, beneficiary states or senior officials outside Ban's immediate circle will be at a minimum, as will the consideration of any other nominees. He will interview each candidate and announce the new office-holder with little fanfare.
Ban is not seeking re-election and could take this opportunity to break with the political traditions, but his history suggests no inclination to do so. As with Amos, he may argue that the absence of another UK national from his cabinet could justify restricting the search to such nominees to ensure the government's close engagement on humanitarian efforts. It's unpersuasive, but he's used it before.
At the very least, Ban should outline and publicize criteria for individual nominees which Cameron would put forward. This would almost certainly eliminate Lansley from consideration, unless such criteria were so vague as to be meaningless. He could forego publishing a shortlist of nominees or engaging member states or humanitarian groups. But issuing the minimal requirements for nominees should be a minimum expectation if the Secretary General is to offer accountability to beneficiary states, regardless of whom he eventually appoints.
If Ban does cave to British demands in the firing and hiring of an Under Secretary-General, it will have severe consequences for the role and selection of future Secretaries General. At the very least, it will dictate to possible candidates for the top post that, unless they promise behind closed doors to abide by P5 dictates in the make-up of their cabinet, they can expect their candidacy to be vetoed. Any official willing to entertain such corruption and lack of political independence should be called out, with David Cameron the first among them.