Update 2 (3 March): Ambassador Heraldo Muñoz, Permanent Representative of Chile to the UN, is now rumored to be a candidate for the post.
Update (2 March): UNElections.org is reporting that a selection committee has been put together to review candidates for the UN ASG for Human Rights, as they called for in their 12 February article. However, the committee may be restricted in considering only candidates from the Global South, a commitment reported made privately by High Commissioner Navi Pillay.
Among the rumored candidates which the committee may recommend for selection to Secretary General Ban Ki-moon is Irene Khan, until recently the Secretary General of Amnesty International and who, in 2005, described the American detention facility at Guantanamo as "the gulag of our times."
The UNElections Campaign, a project of the World Federalist Movement, is commending the Office of the High Commissioner for its openness in seeking qualified candidates for new Assistant Secretary-General for Human Rights post, an upgrade of the D-2 level head of the OHCHR's New York office, presently held by Jessica Neuwirth.
The upgrade took place as part of budget discussions in December 2009, prompting the Ambassador of India to question the decision as confusing human rights with human resources. The government did not act to block the consensus however and the General Assembly approved the upgrading of the position in adopting the Fifth Committee's report. Last month, OHCHR began the recruitment process.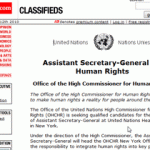 The Office of the High Commissioner (Navanethem Pillay) initiated the selection process to fill the new post on January 25, with an announcement in The Economist outlining the post and qualifications. The application closing date is February 15, 2010 (this coming Monday). The advertisement was circulated to UN Member States in a Note Verbale on January 25, which confirmed, 'recruitment is underway.'
The Campaign applauds the OHCHR for "publicizing the selection process" for the post, but does not comment on the short turn-around – a period of only three weeks – between the recruitment announcement and the application deadline of 15 February.
While candidates to be presented to UNSG Ban Ki-moon could be identified within the OHCHR, the Campaign encourages the OHCHR and the UNSG to instead appoint a selection committee of qualified experts to interview candidates and provide "[g]overnments and other appropriate stakeholders…adequate time to consider and comment on the short-listed candidates prior to the final decision."