Update: Results below.
Update 2: Quick analysis — the primary target for human rights groups, Libya, came in last in the elections. Other governments which the groups opposed received votes more or less than other non-targeted governments.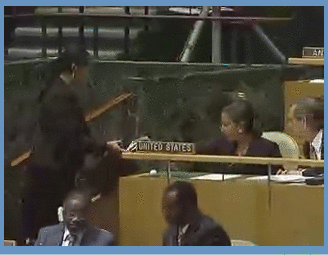 This morning at 10:00am, the UN General Assembly will vote to fill 14 seats of the 47-member Human Rights Council. There are 14 remaining declared candidates for these seats, and while the U.S.-backed campaign to oust Iran from consideration was successful, a number of groups have stepped forward to critique how the resulting closed slates allow other "bad actors" to be seated without a genuine competitive election. And without some of the significant improvements that went into the HRC's election rules, this would be unpreventable.
UNElections.org was established in response to non-competitive elections at multilaterals, Human Rights Watch began raising this meme as far back as August 2009, and more recently Freedom House and UN Watch have raised it in connection with their campaign to urge governments to deny Libya the required majority vote to be elected. The campaign is hoping that the worst violators can be replaced by write-in candidates with better human rights records.
…UN Member States are urged to vote "No" in regard to the most conspicuously unqualified states in the secret ballot, in order that other, better qualified candidates may come forward. In order to successfully block an unqualified candidate, according to Rule 94 of the UNGA Rules of Procedure, a majority of states must vote against the country on three successive ballots. As the Rule explains, "after the third inconclusive ballot, votes may be cast for any eligible person or Member" – which would open the process to other states not already on the ballot.
UN Watch and Freedom House are particularly concerned about 3 African and 2 Asian candidates – Libya, Angola, Mauritania, and Malaysia and Qatar – and they suggest of number of alternative governments in those regional groups  more qualified for those seats. Turtle Bay points out however that the U.S. has found ways of working with Libya on different fronts and has not sought to encourage other governments to vote against it today as it did on Iran.
It's refreshing to see respected organizations finally recognizing the importance of such elections and the need for competition rather than polite – and political – consensus. Even as governments attempt to continue non-competitive practices, small steps toward accountability in global leadership elections – such as the requirement that HRC elections are held by secret ballot and that members must receive majority votes of the entire UNGA rather than only their respective regions – opens up real opportunities for improvement. We'll know shortly whether governments are taking advantage of such opportunities that UNElections, Human Rights Watch, UN Watch and Freedom House are highlighting.
————————————————————————-

Results of this morning's elections are below. A candidate needed 97 votes to be elected.
In order of vote tallies:
Maldives, 185
Thailand, 182
Ecuador, 180
Guatemala, 180
Malaysia, 179
Qatar, 177
Spain, 177
Moldova, 175
Switzerland, 175
Angola, 170
Poland, 171
Mauritania, 167
Uganda, 164
Libya, 155
Peru write-in, 1