Media attention on the UN General Assembly will be heightened this week as leaders from the UN's 193 member states arrive in New York to officially address the world body as they do each year. The Assembly actually convened for this year's session last Tuesday, mostly amid the chirping of crickets and principally to round out a number of committees appointments for the coming session.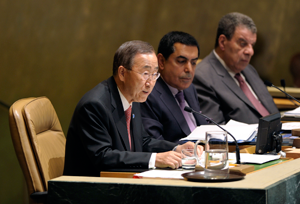 Filling these posts has been an ongoing process over the summer. The President of the Assembly, Nassir Abdulaziz al-Nasser of Qatar, was confirmed this summer after being elected by Asian member states as the preferred candidate of the regional group, to whom the post was reserved for this year. Next to him was Secretary General Ban Ki-moon, who himself was elected in 2006 when it was "Asia's turn" at the helm of the organization. Ban was re-elected this summer to the second of two terms which each regional group traditionally holds in rotation. (Having the top posts held by national from the same regional group is not unusual, given the 1-year term of the PGA and the lengthier–typical 10 years–term of the Secretary General.)
Each of the six main committees–which vet most of the resolutions on the Assembly's agenda–elected chairs earlier this month and rounded out appointments of vice chairs and rapporteurs last week.
| | | |
| --- | --- | --- |
| Committee | Focus | Chair |
| First | disarmament and related security questions | Jarmo Viinanen (Finland) |
| Second | economic questions | Abulkalam Abdul Momen (Bangladesh) |
| Third | social and humanitarian issues | Hussein Haniff (Malaysia) |
| Fourth | Decolonization, space, peacekeeping, and other political issues | Simona-Mirela Miculescu (Romania) |
| Fifth | administrative and budget issues | Michel Tommo Monthe (Cameroon) |
| Sixth | legal questions | Hernán Salinas Burgos (Chile) |
In addition to these main committee, the General Assembly has also elected the following member states to the Credential Committee and a General Committee.
| | | |
| --- | --- | --- |
| Credentials Committee | Appointed by the Assembly on the proposal of the PGA. Examine the credentials of member states' representatives to the General Assembly | China, Costa Rica, Egypt, Italy, Maldives, Panama, Russian Federation, Senegal and the United States |
| General Committee | Composed of the PGA, 21 Vice-Presidents, and the Chairs of the six Main Committees. Puts together the Assembly's provisional agenda and closing dates | Vice Presidents – Australia, Austria, Benin, Bolivia, Chad, China, Fiji, France, Haiti, Hungary, Iran, Kuwait, Liberia, Malawi, Morocco, Republic of Korea, Russian Federation, United Kingdom, United States, Uruguay |
The provision agenda, produced by the General Committee, includes a list of elections to be held by the UN principle organs and other subsidiary bodies. Those will be the subject of the next post.