Next Friday, the UN General Assembly will take up its regular task of electing five non-permanent members of the UN Security Council for two-year terms. (Originally scheduled for 13 October, the election was moved to 21 October in the Council's programme of work released earlier this month.)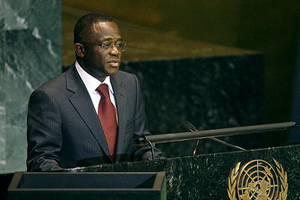 Those elected will serve from 1 January 2012 through the end of 2013. They will replace Bosnia & Herzegovina, Brazil, Gabon, Lebanon and Nigeria, the terms of which end on 31 December.
Contested Slates
This year, four of the five regional groups will be putting forward candidates for the five seats (the exception being the Western European and Others group). Of these, only the Latin American and Caribbean group is putting forward a clean slate, with Guatemala being the group's sole candidate for its single seat. In the Asian and East European groups, several candidate governments will be competing for each group's single available seat.
The African group is offering a de facto clean slate for one of its two reserved seats and two candidates for the remaining one. This arose from the informal agreement which the group shares with the Asian group to alternate setting aside one seat for an Arab state from with the groups. The African group has endorsed Togo as the sole candidate for the first seat (thus offering a clean slate for that seat), while Morocco and Mauritania will compete for the Arab seat.
| | | |
| --- | --- | --- |
| Regional Groups | Available Seats | Candidates |
| Africa | 1 | Togo |
|      Arab states within group | 1 | Mauritania, Morocco |
| Asia | 1 | Kyrgyzstan, Pakistan |
| Latin America and the Caribbean | 1 | Guatemala |
| Eastern Europe | 1 | Azerbaijan, Hungary, Slovenia |
| Western European and Others | 0 | N/A |
There are no formal qualifications for Security Council seats, though tradition has been that a state should have demonstrated a commitment to maintaining international peace and security through:
troop contributions to UN peacekeeping operations,
a track record of international leadership,
financial contributions to the UN budget, and/or
representation of a large demographic group.
Assessment of Candidates
As part of their extensive, in-depth report on the elections, The Security Council Report provides a brief review of each candidate's stated priorities and the contributions which they feel qualify them for a seat.  States with recent previous service are touting their experience on the Council while those without recent service are campaigning as "outsiders" with appeals for a more inclusive and/or more transparent Council accountable to the whole membership. Their review and other reports provide the following points of interest:
Mauritania, though endorsed by the AU in January, has not served on the Council since 1973 and does not significantly contribute to UN peace operations. Morocco, on the other hand, is a top troop contributor and, though not a member of the AU (the AU and the African Group are technically different entities), would be in line according to the AU's intra-regional rotation of Council candidates.
Togo is expected by most observers to be an easy, but not guaranteed, win.  Morocco is not challenging Togo's candidacy, according to an elections officer with the Moroccan mission, who also noted that their lobbying efforts are in support of their own government and Togo as the best candidates to represent African interests on the Council.
Kyrgyzstan is seeking its first term on the Council, going up against six-term candidate and second highest troop contributor Pakistan. Should Pakistan be elected, it would be the first time that it and its geopolitical rival India will serve on the Council at the same time This was incorrect. Pakistan and India have overlapped on the Council three times – in 1968, 1977, and 1984. (see here and here).
With only 23 members, the Eastern European group is the most competitive in elections to the Security Council. Azerbaijan would be serving on the Council for the first time if elected in preference to experienced candidates Hungary and Slovenia. It's approach has been as the anti-EU candidate from Eastern Europe, making the case that election of one of its competitors would give the EU a full third of the Council's membership. Canada — a much more respected contributor to peacekeeping efforts – made this same argument in its embarrassingly unsuccessful bid last year. If it didn't work for Canada, it most certainly will not work for Azerbaijan.
Earlier this year, Hungary was been encouraged in its candidacy by Secretary General Ban Ki-Moon, who later had to clarify that he was not endorsing its bid. Hungary's ability to campaign for an international election was criticized in 2008, but it successfully won a seat on the Human Rights Council the following year. Slovenia has lobbied hard with African states, among others, and he told this press earlier this summer that "he now understood better their interests and their attitude towards the International Criminal Court." This might suggest a willingness to weaken the Court's independence – not a good goal for a Council member to have.
If elected, Kyrgyzstan and Azerbaijan would be the first former Soviet republics that did not hold their own separate UN membership (such as Ukraine and Belarus) to sit on the Council. How they perform in regard to positions taken by Russia (presumably under Putin, who aims to create a new "Eurasian Union") will be interesting to watch.
What to Expect
The three contested slates (or two and a half, considering the divided African slate) will offer General Assembly members a genuine choice among the competing states. To secure a seat, a candidate government must obtain the support of 2/3rds of the Assembly, or 129 votes assuming all member states participate.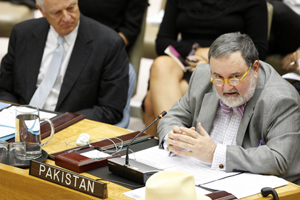 My prediction is that we'll see a 2011-2012 Council composed of experienced members rather than new faces (other than Guatemala, whose default election will provide it with its first term.) Pakistan will easily beat Kyrgystan and Morocco's contributions to peacekeeping and peacebuilding operations should push it over the line ahead of Mauritania. Whether Hungary or Slovenia will prevail for the East European seat is hard to tell, but if pressed, my money would be on Hungary for its troop contributions and more substantive experience.
This would produce a line-up for 2012-2013 of Germany, Portugal, Hungary, India, Pakistan, Morocco, Togo, South Africa, Colombia and Guatemala, plus the permanent five. How this line-up addresses the "prime time" questions of global leadership in contrast to this past year's Council will be of significant interest.
Jeff Laurenti, with the Century Foundation, summed up the risks this way:
Nine votes are required to pass resolutions in the fifteen-member council, and applications of the relatively new principle of a U.N. "responsibility to protect" endangered populations remain controversial.  The resolution authorizing military action to protect Libya's civilian population passed with just ten votes in March; the replacement of two of that resolution's supporters by countries more skeptical of Western intentions could prevent passage of such a resolution, even if China and Russia abstain. The net addition of just one skeptical government would have blocked last week's resolution on Syria, without either China or Russia having to take a stand. And there are certainly a number of countries in the running this week that are skeptical of such international "meddling."
With the possible consideration of sanctions against additional regimes – Bahrain, Yemen or perhaps Syria again – Laurenti's concerns are well worth examining. In terms of human rights and the enforcement of established international norms, the collective membership of the Council may be more important than at anytime going back to the Cold War.
Those wishing to watch the election take place can watch it live at 10:00am on Friday via http://www.un.org/webcast.