Things are heating up for the Asian slate in this fall's HRC elections.
Vietnam and Maldives both tossed their respective hats into the ring in August, issuing notes verbale within days of one another. The Asia-Pacific category will be competitive, as there are now five countries (China, Jordan, and Saudi Arabia, in addition to Vietnam and Maldives) running for four vacant seats.
This is Vietnam's first race for a seat on the Council. In its note verbale, Vietnam states its intent to promote and protect human rights "at the national, regional, and international levels." Vietnam promises to continue implementing recommendations from its 2009 Universal Periodic Review, strengthen cooperation and dialogue with other UN human rights entities, and contribute to the promotion of ASEAN human rights cooperation.
Vietnam also notes that it is party to numerous human rights treaties including the International Convention on the Elimination of All Forms of Racial Discrimination, the Convention on the Elimination of All Forms of Discrimination against Women and the Convention on the Rights of the Child. The country also cites its past work on the UN Security Council, stating "Within the Security Council, Viet Nam presided over the negotiations on the presidential statement entitled 'Children and armed conflict' and resolution 1889 (2009) entitled 'Women and peace and security'."
Meanwhile, Maldives, another candidate from the Asian slate, has issued its own note verbale, in which it announces it will run for re-election after being elected to the Council in 2010. As a small country and emerging democracy, it notes that "Maldives believes that its continued membership in the Council would help it to further accelerate ongoing efforts in modernizing institutions and promoting a culture of respect for human rights in Maldivian society."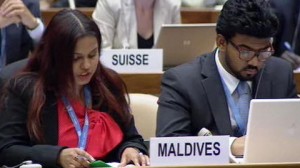 Maldives' note verbale promises, as a continuing HRC member, that domestically it will "secure and fully deliver the rights enshrined in the Convention on the Elimination of All Forms of Discrimination against Women" and "enact enabling legislation on international human rights instruments so that they are observed and integrated into all aspects of the Maldivian society."
On an international level, as a Council member Maldives pledges to "continue to emphasize, at the national and international levels, the importance of cultivating the value of respect for human rights." It also notes that Maldives ratified the Rome Statute of the International Criminal Court in 2011.
One issue that continually arises in HRC races is the entrance of candidate states whose own human rights records are far from perfect. In this respect, both Vietnam and Maldives present problems.
For example, in a 2013 report on Vietnam by Amnesty International, the organization noted that "Repression of government critics and activists worsened, with severe restrictions on freedom of expression, association and assembly. At least 25 peaceful dissidents, including bloggers and songwriters, were sentenced to long prison terms in 14 trials that failed to meet international standards. Members of ethnic and religious groups faced human rights violations…." Human Rights Watch likewise condemns Vietnam's human rights track record in its World Report 2013, stating "The Vietnam government systematically suppresses freedom of expression, association, and peaceful assembly, and persecutes those who question government policies, expose official corruption, or call for democratic alternatives to one-party rule. Police harass and intimidate activists and their family members…."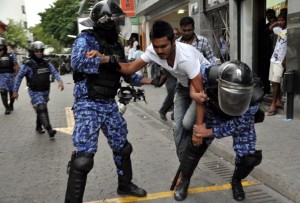 Maldives' human rights record has also been subject to scrutiny. Its first democratically elected president resigned in 2012, in what was described as essentially a coup by supporters and media, according to Amnesty International. The country also drew widespread international outrage this year when a fifteen-year-old sexual assault victim was sentenced to be flogged for engaging in "extramarital sex," though a Maldives High Court later retracted the sentence.
So, it will be yet another case of imperfect candidates competing against one another for the Human Rights Council in this year's Asia-Pacific slate. Which countries will emerge victorious, and what will it mean for the future of the HRC? We'll keep you posted as the story unfolds….